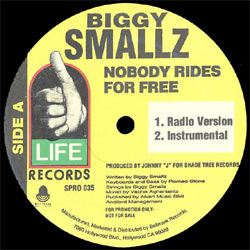 A dope writeup was found at the home of geniuses, Grand Good.  Its an in-depth article on the history of B.I.G.'s "Biggie Smalls" moniker.  I thought I knew the history  but there seems to be a lot more to it. I also found it was a character in Pottier/Cosby movie sequel.  Tupac fans will get a kick of the full article after the jump.
Fresh from 33jones.com writes:
The first time I ever heard the name Biggie Smalls, it was on one of those old NBA "movies" they used to put out back in the early 90's that was equal parts highlight package and music video. The song, like the movie itself, was called Jam Session, and featured Biggie along with Heavy D and Troo Kula, one of the emcees that rolled with Bad Boy in its early days but never actually got a record deal with the label. A year later Ready to Die came out, and Big had changed his name to The Notorious B.I.G. It seemed like a poor marketing decision, as the name certainly didn't roll off the tongue quite the same way that "Biggie Smalls" did. There were rumors that Big had been forced to change his name due to a lawsuit from some white kid out in California, but that seemed rather unbelievable and the Internet hadn't quite evolved to where it's at today so it was impossible to track down any proof of it anyway. I hadn't given the name change much more thought until very recently, when I began preparing for an interview with Majesty, the brother of Tupac's friend and former Live Squad member Stretch. It turned out that there was indeed some truth to the rumors behind Big's name change, but the legacy of the Biggie Smalls name was even more complicated than that.
During the early 90's, there were at least four people using some variation of the name Biggie Smalls and, not altogether coincidentally, they all were affiliated in some way with Tupac and his Thug Life movement. Everyone is of course familiar with Christopher Wallace and the fact that Pac served as something of a mentor and friend to him up until the night that Tupac was shot at Quad Studios, but details on the other men carrying the mantle of Biggie Smalls have been hard to come by.
At the same time that B.I.G. was recording his debut album, there was a white rapper (or possibly Latino, details on this have been hard to nail down) out in California going by the name Biggy Smallz who had a loose connection with Tupac through producer Johnny J. The discogs entry for Biggy Smallz claims that he was born in 1979, but I'm fairly certain that's incorrect as it's hard to envision someone that young rolling with Pac and his crew (if discogs' birthdate were correct, that would have made Biggy Smallz about 14 years old around the time that Ready To Die came out). The story seems to be that Tupac, as a favor to Johnny J, asked Christopher Wallace to change his name to avoid any confusion with Biggy Smallz (as it turned out, the confusion in names helped Biggy Smallz out, as his own records saw boosts in sales shortly after Ready to Die came out).
As far as I'm aware, only three songs were ever officially released by Biggy Smallz. The first, 1991's Save Mr. Perkins, came out on MRC Records, a label that apparently only dropped two records in its entire history. He followed that up two years later with the single Cruisin', under Bellmark Records. His final release, Nobody Rides For Free, came out as a single for Life Records. Shortly after that release Biggy Smallz was murdered, though as I'll be saying a few more times in this post, I was unable to turn up any further details about his death.

Cruisin' and Nobody Rides For Free were both produced by Johnny J, the man behind a lot of Tupac's later work, including How Do U Want It. It's worth noting that, as with a surprising amount of other people connected to Tupac, Johnny J's life ended tragically. This past October, while serving time for a DWI, Johnny J "jump[ed] to his death off an upper level at the jail."
Confusing the Biggie Smalls situation even further, Tupac occasionally referred to one of his producers, Deon Evans aka Big D The Impossible, as "Biggie Smalls." You can see Pac introduce Deon as Biggie Smalls in this footage from The Box. Of the many men who took on the name Biggie Smalls, Deon is the only one still alive. He recently did an interview with Thavaults.com that's worth checking out.
Finally, there was one more Biggie Smalls, a man named Drik who grew up in Queensbridge with Stretch and The Live Squad and was a part of Tupac's Thug Life/Thugadon movement. There are virtually no details to be found on Drik (though I'm hoping Majesty will clear some of it up in our upcoming interview…stay tuned), beyond the fact that he died at some point before Tupac, B.I.G. or Biggy Smallz. After Drik's death, Tupac dedicated God Bless The Dead to his "motherfuckin' Biggie Smalls," dropping the line, "the other day I thought I seen my homeboy Biggie saying 'Shit don't stop!'" Though Pac recorded the song a couple of years before Notorious B.I.G.'s murder (and obviously before Pac's own death!), it wasn't released until the late 90's. Predictably, conspiracy theorists argued that this was indeed a reference to Christopher Wallace, not Drik, using the line to further the argument that Tupac had faked his own death. Shock G of Digital Underground, who was a close friend of Tupac's, and the two surviving members of Live Squad have all stated that this was not some sort of prediction of B.I.G.'s murder, but rather a shoutout to Drik.